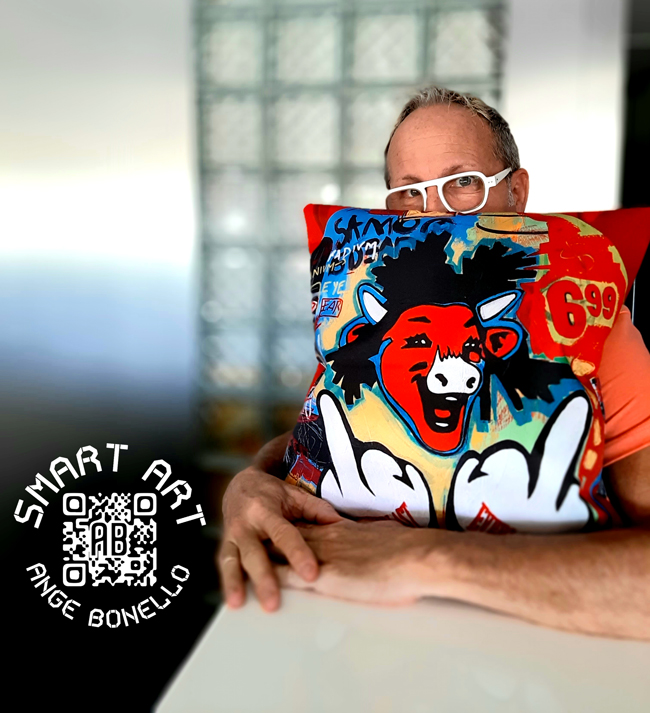 Ange Bonello's artworks coalesce into a kaleidoscopic corpus composed of borrowings from the visual media and alterations of logotypes, where fashion icons, people, artists, "flamboyant politicians" as well as models taken from the world of comics are bound to collide. His painting compares with a Photoshop-filtered image stitching which gives shape to an overly-connected world, and is registered in a particular contemporaneity. The stylised and coded whole can be likened to Pop Art design and pop culture. By fabricating objects derived from his painting, while intending these creations to be affordable within the reach of as many people as possible, he experiments with research paths leading him to the "popularization" of his art.
Berry "Anne-Catherine Berry
Doctor in Art Sciences and Aesthetics"
Les réalisations d'Ange Bonello constituent un kaléidoscope d'emprunts visuels des médias et de détournements de logotypes, où s'entrechoquent icônes de la mode, people, artistes, « politiques flamboyants » et figures issues de la BD. Sa peinture, tel un assemblage d'images passé aux filtres « Photoshop », donne forme à un monde connecté à outrance et s'inscrit dans une certaine contemporanéité. L'ensemble, stylisé et codé, se rapproche d'un graphisme Pop art et d'une culture pop. Par la fabrication d'objets dérivés de sa peinture, qu'il souhaite à la portée du plus grand nombre, sa recherche le conduit vers une « vulgarisation » de son art.
Berry "Anne-Catherine Berry
Docteure en Sciences et Esthétique de l'Art"